We Want it Done the Right Way, or No Way
"No" is a word rarely used in our daily operations. We don't like to say no to work, and we usually find a way to help in any situation. However, safety is always the biggest factor, and on the rare occasion, the risk can become too much. Although we don't like to say no, if we can't do something the right way, then we have to say, "no way."
Pressure to Rush Work Leads to Withdrawal from the Job
Our crew was recently called to an apartment complex in Washington D.C. to address mold growth in a unit. The job seemed to include routine remediation, and we were looking forward to getting started on solving the issue for the client. Our tests revealed mold growing on the drywall and the moisture meter showed that both the drywall and the wood studs behind it were still wet. To do it right, this would require us to remove the drywall and completely dry the moisture behind it before completing the reconstruction.
The general manager told us they had also contacted another company, and they estimated they could complete the job in just a single day, so as not to inconvenience the tenant. We were surprised, to say the least. Our team is quick and efficient, but we're also thorough and competent. There was just no way we could safely complete the scope of this job in that short of a timeframe. We knew, even with our top-of-the-line equipment, that the total drying time would take at least a full day or maybe two. If the drying process wasn't completed properly, it would end up negating the entire process – and probably make it worse! The mold growth would simply continue behind the surface.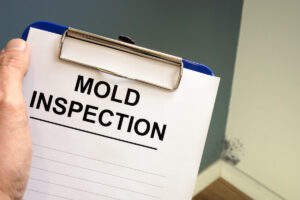 We explained the situation, emphasizing that it would be unsafe to complete the job within the requested timeline. We advised that this decision could put the owner of the building, property management, and, not the least of all, us, in a position of being legally responsible for the outcome. The general manager still wanted to employ us for the job but they insisted – even with the information we gave them – that it needed to be completed in one day. In the end, we are never willing to compromise safety and integrity for a job, and we had to walk away from the situation. We wish everyone in that situation well and hope it worked out!
Purofirst Believes in Doing a Job the Right Way: Safely and Properly
At Purofirst, we tackle water damage, fire damage, mold remediation, and more! We take pride in our work and will take all precautions to complete a satisfactory job. Give us a call at 800-500-2399.