Infrared Inspection Services – Washington DC, Maryland, and Northern Virginia
An infrared inspection provides a window to what's going on behind the scenes in a building. Thermography provides a non-invasive "heat diagram" of such conditions as water leakage, damaged materials, energy use inefficiencies, point of origin, and electrical problems—related to as-built, post-casualty, and post-restoration situations.
Inside an Infrared Inspection
A home builder contacted Purofirst of Metropolitan Washington to inspect and locate possible water leaks or water intrusion involving one of their homes. We service properties in Washington DC, Montgomery County, MD., Fairfax, VA., Prince George County, MD., and the surrounding areas. Typically water on building materials will evaporate and cool by about 6 degrees. Infrared (IR) thermography was performed on the main level of this home to determine the location of water leaks or air infiltration. As the images indicate, water leaks were located, along with missing insulation and air infiltration. A wet spot observed with the infrared camera will show as a distinct cool spot. The following report is a summary of findings:
Recommendations
As indicated by the infrared inspection (Figure 1), there is one air infiltration area that will require further investigation to determine the cause. (Figure 2) There is a water leak in the ceiling of the Family Room. Upon running water in the shower in the Master Bathroom, this was determined to be a drain pipe leak. This will need to be repaired, and the area checked thoroughly to ensure it is dry. The leak at the foyer windows is caused by a flashing problem on the Portico roof. This needs to be repaired before interior repair. (Figure 3) There are two areas of missing insulation. (Figure 4) We can remedy the area in the ceiling of the Family Room by accessing the garage's attic. (Figure 5) However, the area in the Family Room wall will need to have the drywall removed to install the insulation.
Figure 1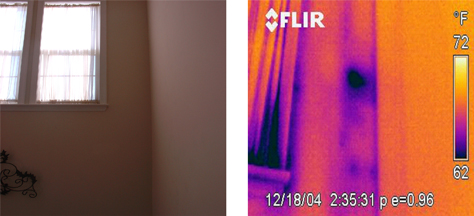 An infrared picture reveals moisture in the wall to the right of the foyer windows.
Figure 2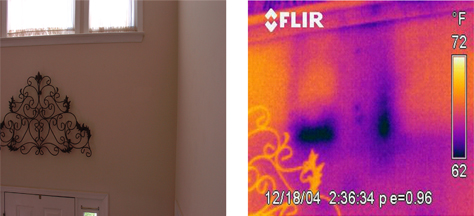 An infrared picture reveals moisture in the wall below the foyer windows.
Figure 3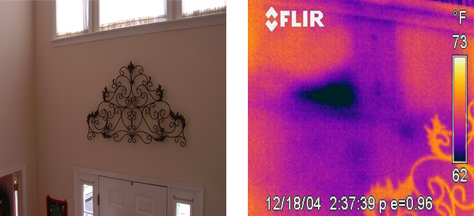 An infrared picture reveals moisture in the wall below the foyer windows.
Figure 4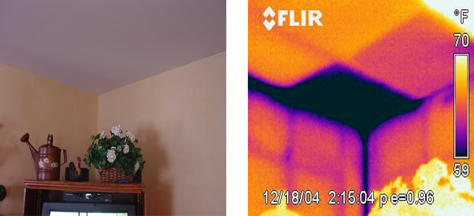 An infrared picture reveals missing insulation in the corner of the ceiling in the family room.
Figure 5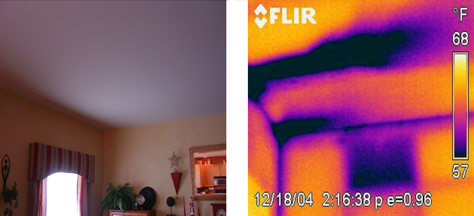 The infrared picture reveals air infiltration (foreground), a water leak in the corner, and another missing insulation spot.
Infrared pictures are worth a thousand words…and can save many thousands of dollars in invasive examination and assessment.
Purofirst of Metropolitan Washington is your single-source provider of commercial and residential infrared inspection services as well as Fire, Mold, and Water Damage restoration & reconstruction.
Insurance Company Approved • 24-Hour Emergency Response • On-site within 1-2 hours.
Our Restoration Services Include: