Beware – Water and Mold are Sneaky!
Water and mold are sneaky, often not revealing any telltale signs of their presence until well-advanced. A slow leak from a toilet, refrigerator or other appliance can begin undermining structural integrity and aid the rapid growth of mold. Together, water and mold can wreak havoc in a home or business. Left undetected or untreated, water and mold will become very expensive and time-consuming problems to resolve.
According to Purofirst's Hunter Pitts, being proactive is critical to preventing or minimizing damage. He points out, "A lot of times, there can be mold in the house, and you won't smell it. It's trapped in walls," where it continues to grow unabated. In some cases, simple inspection can reveal problem areas. Pitts recommends:
Examining crawl spaces, cellars and basements for any sign of water damage or leaks. "If you see a stain in the wall or up in the ceiling, it's very possible you have an active leak—which can cause mold problems as well as structural damage," Pitts notes.
Paying attention to any smell that could indicate the presence of mold. In older structures especially, people tend to ignore odors, attributing them to "old building" smell. This can be a costly mistake.
Perodically conducting a comprehensive "behind-the-scenes" infrared inspection—which is a non-invasive and relatively inexpensive alternative to water damage repair and mold remediation.
Despite the obvious wisdom of containing water and mold, only about 5% of property owners are proactive, according to Pitts. "Usually, if it's not seen or smelled, people assume there's not a problem. Generally, they uncover it when mold growth is advanced, and therefore emits a very strong smell, water spots appear, or there's a noticeable defect in a subfloor or other structure. At that point, it may require thousands of dollars, cordoning off areas, even moving out of the property while the repairs are made," he emphasizes.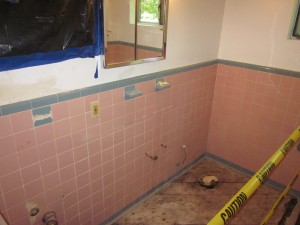 The Cobern project involved a slow water leak from an old copper pipe with a hole in it. Over time, it had rotted bathroom subflooring and caused water damage and mold in the walls. Water damage repair, mold remediation, rebuilding, and replumbing took three weeks and featured mold and water resistant materials—including Durock® board.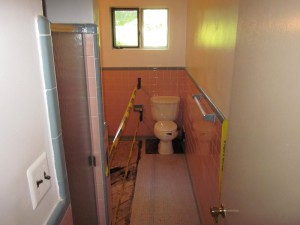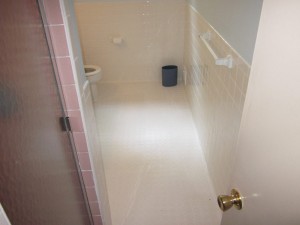 One response to "Beware – Water and Mold are Sneaky!"