The Calm Before the Storm?
As Mary Corton and her husband helped their youngest move into her new dorm room, Hurricane Irene moved ever-closer to their home six hours away. Anxious to preserve water supplies because of shutoffs after previous storms, the couple asked their 22-year-old to fill tubs and sinks.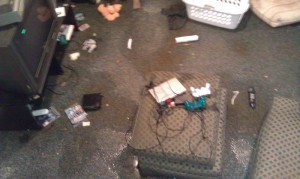 In his zeal, he forgot to turn off the basement laundry tub, which resulted in about two inches of water covering the entire recreation room and basement area—along with a floating carpet.
On advice of their insurance company, the Cortons started contacting restoration companies, attempting to beat the hurricane bearing down on the city. Purofirst of Metropolitan Washington was the first to respond. Arriving at 9:30 PM with two large trucks, they worked for four hours suctioning excess water; and removing the soaked rug, floor boards, about a foot of drywall from the bottom of the walls, and any wet insulation. They cleaned up the area and set up large fans to dry everything completely over the next three days.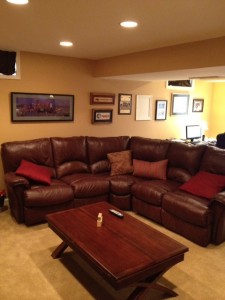 The following week, contractor 1st Source began reconstruction, handling drywalling, painting and carpet installation. "The entire project start to finish took about five weeks, which we thought was remarkable," notes Corton. "We have never had to put in a homeowner claim in our 25 years of owning a home, but all parties involved, Erie Insurance, Purofirst, and 1st Source worked together with us to make this process as painless as possible. For that we are extremely grateful.
"Plus, the final product was outstanding and the contractors were extremely professional. It was amazing to see how quickly and efficiently the Purofirst crew worked, even late on a Saturday night with a hurricane approaching! We never smelled any mold or mildew. Our recreation room is better than ever and we are really enjoying the 'new' space!"
One response to "The Calm Before the Storm?"