Purofirst Performed Fire Damage Restoration of Virginia Home
Fire damage requires urgency and immediate attention. The safety and well-being of people that may have been affected are high priorities since fires can spread quickly and lead to further destruction.
After firefighters have extinguished the flames and have deemed the area safe, a professional remediation company should be dispatched to the scene to assess the situation and begin the necessary steps to clean up. Any salvageable materials should be removed from the area before they become irreparably damaged.
Once the fire damage is stabilized, repairs may be necessary to restore the property to its pre-loss condition. No matter the scale of the fire or its damage, Purofirst of Metropolitan Washington is here to help.
Dangerous Debris
Recently, our office received a call requesting our services for fire damage restoration after a fire destroyed a home in Martinsburg, Virginia, claiming the lives of two people.
The blaze burned through the home's interior and left dangerous debris, making it impossible for occupants to enter the premises. The debris, compromised of charred remnants of the house's structure, posed a severe health and safety risk.
Before the restoration began, however, fire inspectors had to inspect the site and authorize us to start our work.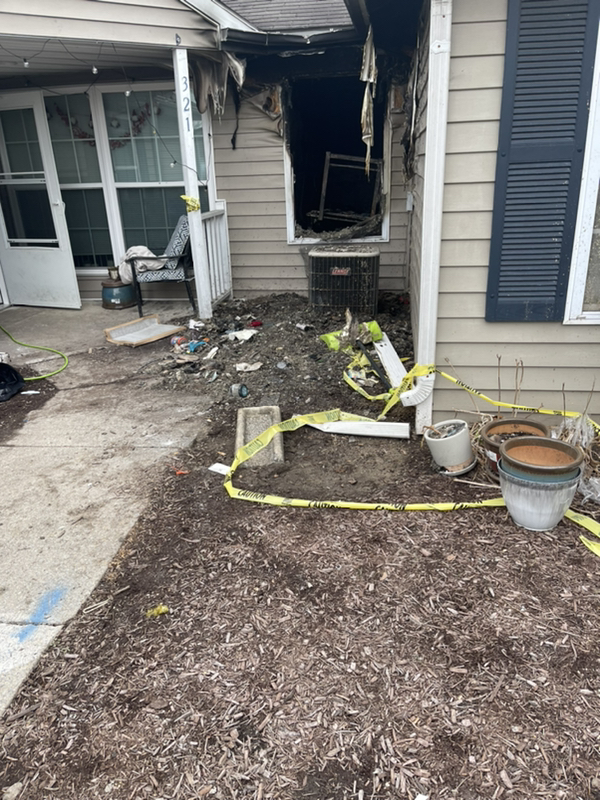 The fire damage affected the interior and exterior of the home.
After getting the all-clear, we immediately sent our emergency response team to remove the hazardous materials from the site. Hazardous items can include anything from soot to the flame-retardant foam used during fire suppression.
Then, our restoration team cleaned the site to prevent potential health hazards. If left untreated, fire debris can cause silicosis, lung cancer, and respiratory and non-respiratory diseases. With this in mind, our Purofirst certified technicians used state-of-the-art equipment and professional-grade cleaners to decontaminate the area thoroughly.
Ultimately, combing through a disaster when there is a loss of life is not easy, but our crew handled the situation with empathy, compassion, and professionalism. We offer our sincerest condolences to the friends and family of the victims.
Contact Purofirst's Certified Experts for Fire Damage Restoration Services
Our commitment to customer service sets us apart from other property damage restoration companies. We understand how overwhelming fire damage can be, so we work quickly and efficiently to immediately get your home or business back to normal.
If you need fire damage restoration in your home or business, don't hesitate to call Purofirst of Metropolitan Washington at (800) 500-2399. We are available 24 hours a day, seven days a week, to help you with your fire damage restoration concerns. Please call us today to schedule an appointment.