Purofirst Performs Mold Mitigation in Alexandria High-Rise
Mold is a problem that can cause adverse health effects in people who have been exposed. Generally, molds produce tiny spores that can spread through the air and, in some cases, grow on building materials. A condominium owner in a large multi-family high-rise called us to remove mold from part of the ceiling and one wall.
Conducting the Mold Mitigation
A quick look with a moisture meter showed some very high readings inside the wall and along the ceiling. When dealing with substantial amounts of visible mold it is important to use proper protection when attempting any remediation. This is true for everyone, including professionals like us. So, our team was fully equipped with personal protective equipment (PPE).
We first cut out and removed the drywall and insulation from the area we were working in. Once all of the mold-covered surfaces were exposed, we used a high-efficiency vacuum to remove all visible mold and spores. To speed up the drying process, we used fans and dehumidifiers, and they were placed around the area. We kept track of the drying progress by taking regular readings on a moisture meter. This was a perfect example of how to remove mold from visible surfaces without causing more damage. It also reinforces how important proper PPE is when dealing with mold.
A major problem we worked to overcome through creative thinking was that the owner's mother was still living with them. She had been using a portion of the damaged room for her hospital bed. We had to safeguard her while we were doing the cleanup since she was in danger. To ensure that they were safe, we created a mini-room out of 6-millimeter plastic. It turned out great and was very effective. The condominium owner was extremely pleased that we were able to clean up their problem in a short time frame, and that we were looking out for Mom!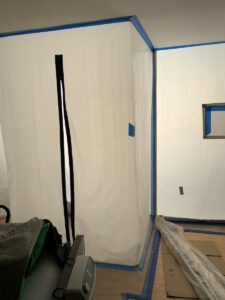 Contact PuroFirst of Metropolitan Washington for Mold Remediation Services
Mold is dangerous to all that are exposed to it. When discovering mold, it is important to act fast as to not let the problem get worse than it already is. Purofirst of Metropolitan Washington is here to provide professional, effective, and safe mold mitigation services for your property. If you require our services, call us at 800-500-2399.