Mold in the DMV
For the past 3 weeks or so, as the Receptionist and Office Manager of Purofirst of Metropolitan Washington, I have answered hundreds of calls for mold testing and remediation in D.C., Maryland, and Virginia, or "The DMV." As a proven leader in Mold Remediation, as our status in the Best Picks service referral books show, we are in high demand. I have heard people complaining of mold in basements, closets, doorways, around windows, in sheds, on boats in Annapolis, carriage houses on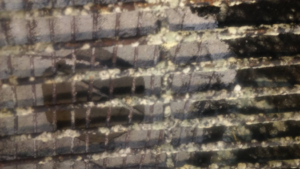 Capitol Hill in DC, on rafters and crawl spaces on new construction sites, and any where else you can think of. So, imagine my surprise when I grabbed my trusty charcoal grill out of my shed for a weekend cookout, after not using it for two weeks, opened the lid, and saw my poor grill covered in black and green mold!!!
It was enough to make me throw the lid down and back away from the grill. It was time for a new one anyway.
If you do find mold, or smell a musty, moldy odor, DON'T PANIC! Call Purofirst of Metropolitan Washington at 1-800-500-2399 for our decades of expertise in mold remediation.
Here are a few things to consider if you think you have mold growing…
What is mold? Mold is a visible group of fungi that forms and spreads on various kinds of damp or decaying organic matter, such as dry wall and other building materials. There are many different types of mold, with some 1.5 million species estimated to exist. Some people may refer to mold as mildew. Both are terms used to describe fungal growth. Mildew is typically powdery and light in color, whereas mold is often fuzzy and more colorful.
What is a mold assessment? Mold assessments involve an inspection of a building area to evaluate whether mold growth is present and to what extent. Samples may be taken to determine the amount and types of mold that are present; however, sampling is not necessary is some cases.
What is mold remediation? Mold remediation is the cleanup and removal of mold growth from surfaces and/or contents in a building. It also refers to actions taken to prevent mold from growing.
What can you do? You can help inhibit the growth of mold in buildings and improve indoor air quality for all occupants by keeping humidity below 60%, reporting water leaks immediately, ensuring that your trash is put out regularly, and that food is stored in appropriate locations.
What is Purofirst's role? Purofirst of Metropolitan Washington has highly trained, licensed, and experienced mold professionals who can come out and assess your area to determine if mold is present, then perform complete Mold Remediation.
#1-800-500-2399 or #301-738-8111